Delicious Bundles by Angela Gray publishes

When lockdown hit in March of this year, Angela Gray's world changed in an instant – her flourishing cookery school had to close, and the future looked bleak.
Ever resourceful, Angela, helped by her daughter, Olivia, threw her energy into creating 'bundles' – delicious dishes that would go together to create the perfect meal – ordered online for people to eat at home.
'We were blown away by the response,' recalls Angela. 'As the orders each week soared, our cookery school became a fully operational production kitchen.'
'Our bundles were inspired by a global melting pot of classic recipes. Ifelt people needed to indulge a little at a time when so much wasrestricted; to treat themselves and have something delicious to lookforward to.'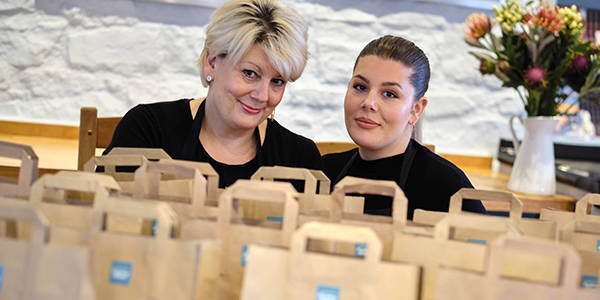 Above: Angela and her daughter, Olivia.

Thanks to the roaring success of the weekly bundles, Angela decided to collate them into a new cookbook, Delicious Bundles, beautifully photographed by Huw Jones, giving everyone the opportunity to recreate these wonderful combos in their own home.
The book is split into seasons, ending with a selection of desserts and baked goodies.
Winter into Spring: Beef Bundle, Souper Douper Bundle, Curry Bundles, French Bundles, Fish Bundles
Spring into Summer: Italian Bundles, Spanish Bundle, Veggie Bundles, Greek Bundles, Chinese Bundles, Asian Bundle

Summer into Autumn: BBQ Bundles, Italian Bundle, Southern Bundles, Moroccan Bundle, Middle Eastern Bundle
Desserts & Baked Goodies
Hardback | 160 pages | 150 x 150mm
Publication November 2020 | ISBN 9781912213566