Dom Conlon at Hay Festival
The first weekend of Hay Festival came to a triumphant close last night after a dazzling few days of exciting events.
On Saturday, poet and author Dom Conlon took to the stage to celebrate all things Wild Wanderers. With the aid of a giant world map, Dom took the children on their very own journey through the natural world to see how hares adapt to climate, how sharks protect the air we breathe, how the wind brings life to the Amazon rainforest and how life without light would be a difficult thing.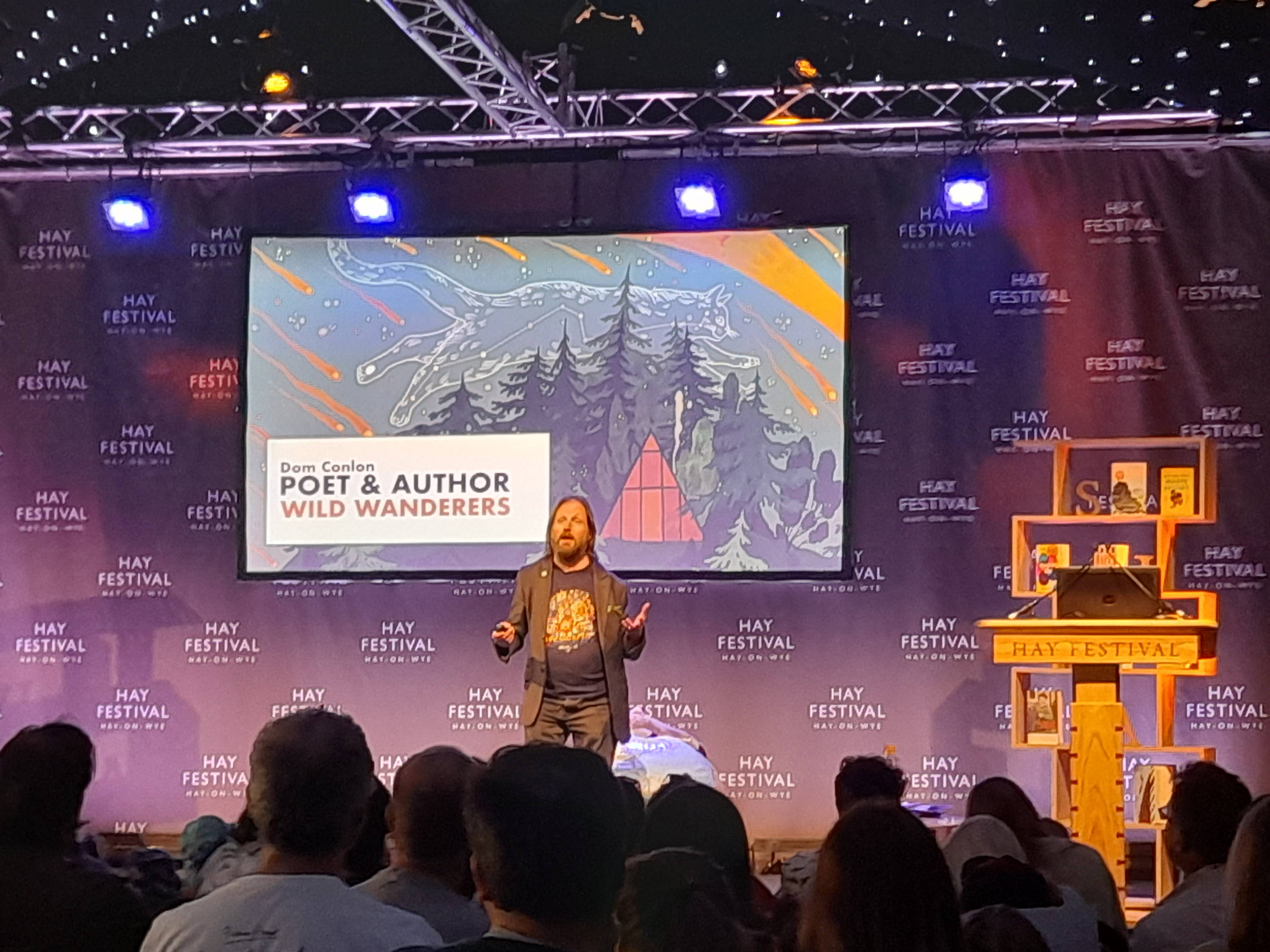 This years festival took place in-person for the first time since 2019, and we've been so pleased with the brilliant feedback we've been getting from the event, from adults and children alike. Dom told us 'Being part of Hay Festival has been the highlight of my literary year. Having such an enthusiastic response to my talk was wonderful but getting to quietly talk to many of the families afterwards was even more special as I heard how Anastasia's art and my poetry was being received.'
We've since received the news that the latest book in the series, Shine, Star, Shine! was in the top five best selling children's books over the weekend, alongside books written by the likes of Jacqueline Wilson and Michael Morpurgo.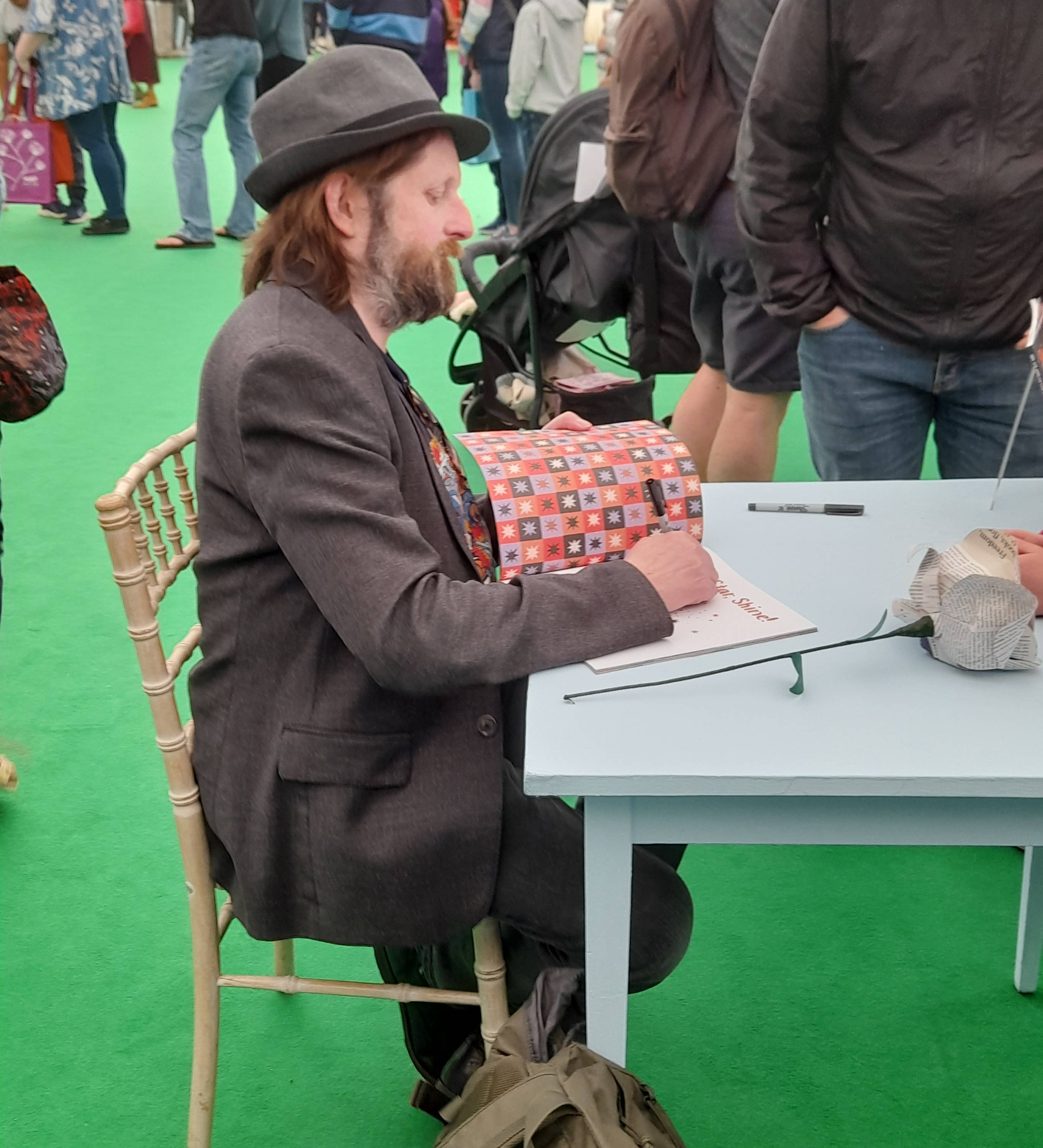 The event began with a short introduction before Dom was invited onto stage where he kicked straight off discussing the first book in the series, Leap, Hare, Leap! and the difference between hares and rabbits. He then invited one of the young readers to the stage to help demonstrate how far hares can leap. The audience were then treated to a reading of the second book in the series, Swim, Shark, Swim! with the aid of a big blow up globe. Dom continued to discuss the third and fourth books in the series, Blow, Wind, Blow! and Shine, Star, Shine! and the effects of the sun and wind. Drawing the event to a close with a Q&A, Dom then went to sign books at the bookshop where he got the chance to discuss the books and meet some of the readers.
Here is what publishing director Matthew Howard had to say about it: 'A great event that was upgraded on the Hay programme due to its popularity. Dom kept his young audience enthralled throughout with his knowledge and enthusiasm, making sure everyone present could take part and show their love for the natural world in which we all live together. Great fun!'
Take a look below to see a snippet of Dom reading Swim, Shark, Swim!

Each Wild Wanderers title takes a gentle and lyrical journey through biodiversity, the environment and its challenges to unlock a world of wonder. With rich language and enchanting art by Anastasia Izlesou, Wild Wanderers is a landmark series delivering STEAM education from the heart and features fascinating facts about the principal species and topics in order to embed a love of science and the natural world into children of all ages. Four titles, Leap, Hare, Leap!, Swim, Shark, Swim!, Blow, Wind, Blow! and Shine, Star, Shine!, have been published to date.
The next book in the series was announced just last week. Grow, Tree, Grow! will be published on 5 July. You can find out more about this brilliant picture book below:
Meet Oak, growing taller each year as he becomes a home for a hundred different species of insect and plants and, inch-by-inch, finds his place in a rich forest of trees.
Complete with a list of fascinating facts about different species of tree, this charming poetic picture book combines fiction and non-fiction to make a perfect educational resource for children whether at home or in the classroom.
You can preorder your copy either from our website or your local bookshop.
If you're keen to see Dom or Anastasia in action, keep an eye on our events page, which is regularly updated with all our author and illustrator events or give us a follow on Twitter, Facebook or Instagram.