Sue Kent Garden Notes
Media Page.
Text Copyright © Sue Kent. Photography Copyright © Jason Ingram 2023. Book Copyright © Graffeg 2023.
Garden Notes was written and designed by award-winning designer Sue Kent with the aim of creating a record for all of your gardening needs. This book is the perfect tool to ensure successful gardening, combining note taking for seeds, plants and garden design, together with helpful planting information, plant and soil health pointers, pruning tips, gardener health tips and much more. Garden Notes is a practical combination of useful forms for keeping your garden records and extensive tips and tricks, all helpfully categorised for ease of recording and reference.
'I made this book for personal use, as I could not find a book on the market that suited my needs. It's designed to be light in the hand, easy to read and effortless to use as a record. It will fit any standard bookshelf and has a water-resistant cover that can be wiped down for use outside. I thought fellow gardeners might find it useful too. I'm committed to help everyone enjoy gardening. I like to help people unlock their gardening abilities – the book supports this by providing useful information on planning and designing a garden, and choosing the right plants for the size and aspect of the garden. I also want to encourage people to create a beautiful garden while protecting environmental resources and encouraging wildlife.'
Sue Kent
Chapters in this book include: Vegetables, Seed Germination, Plant Health, Plant Nutrition, Pests and Predators, Plants & Bulbs, Notes, Pruning Tips, Storing Crops: Tips, Fresh Flowers & Foliage: Harvesting, Garden Design: Planning, Gardener Care, Tool Care, Shopping Habits, Gift Ideas for Gardeners, Gardening Books, Visiting Gardens, and Address Book.
Sue Kent is a TV presenter, an RHS disability ambassador and award-winning garden designer. Her television work includes leading gardening programmes such as BBC 2's Gardeners' World.
Sue has lived in Wales for more than 30 years, and has a large garden close to the sea, sheltered by cliffs and woods. It has four different levels, providing distinct garden zones, each with a different vibe. She has also taken on an organic allotment in order to develop her fruit and vegetable growing skills. Sue is committed to encouraging biodiversity in her gardens, and does not use toxic chemicals of any kind.
Advanced Information Sheet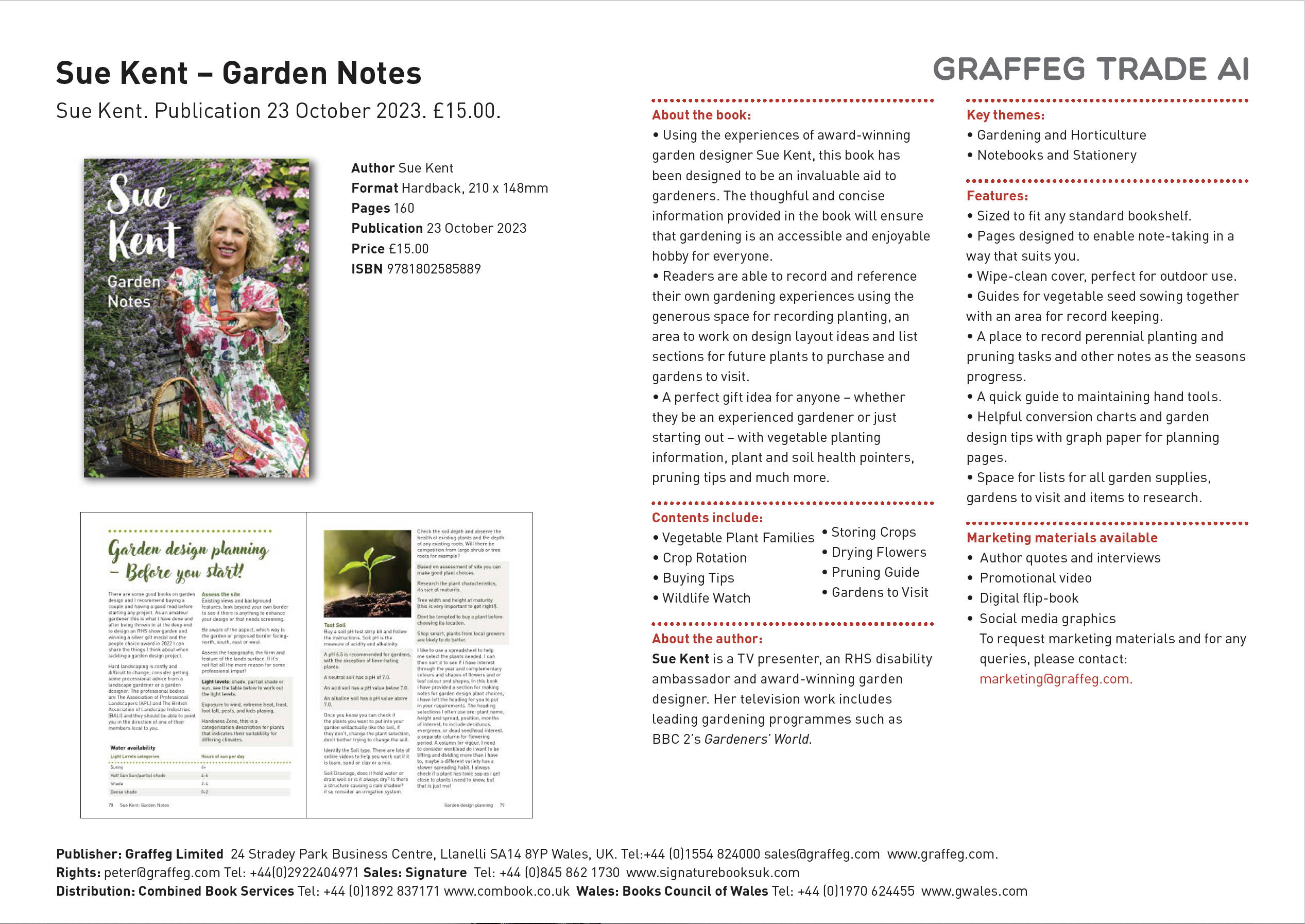 available 23 october 2023
Any press and media queries, or to request a review copy, please get in touch with us at media@graffeg.com.

Any sales queries please get in touch with us at sales@graffeg.com.
To request review copies, interviews or images for use with editorial, please contact: bethan@graffeg.com/02922 404970.