Rita wants a Genie

Rita returns this spring with a tale of a genie, a lamp and the importance of sharing.
This Spring Rita returns and this time she wants a Genie to grant all of her wishes. But will this be as good as it seems? Find out more about the fifth instalment of Maire Zepf and Mr Ando's highly praised Rita series below: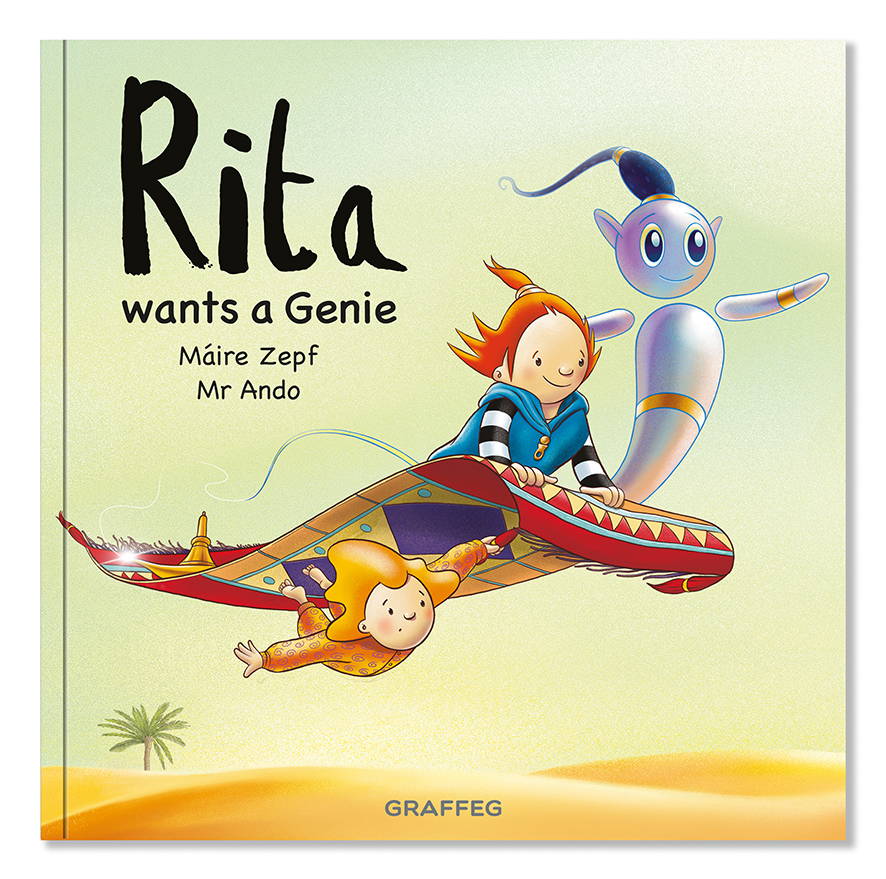 Meet Rita. She's a little girl with very big ideas. Rita wants a genie who will obey her every command and give her all that she dreams of. Alacazam! Alacazee! Zim! Zam! Alacazoo! But what if someone else gets their hands on the genie?
Rita wants a Genie is written by Irish picture book duo Máire Zepf and Mr Ando.
Máire Zepf has written 12 books for children, from picture books to a YA verse novel. Winner of the KPMG Children's Book of the Year, the Réics Carl Award and a White Raven in 2020, her books appear in 8 languages worldwide. The Co. Down author was the first Children's Writing Fellow for Northern Ireland and is Artistic Director for Quotidian.

Mr Ando (Andrew Whitson) is an award-winning artist and Belfast native who likes to be called Mr. Ando! He lives in an old house which is nestled discreetly on the side of a misty hill; at the edge of a magic wood, below an enchanted castle in the shadow of a giant's nose. His house looks down over Belfast Harbour where the Titanic was built and up at the Belfast Cavehill.
Reviews are incredibly helpful not only for publicity, but they work as great feedback for future titles in the series. Let us know what you think on social media and tag us on Twitter @graffeg_books or Instagram @graffegbooks and you can even let us know what you'd like to see Rita get up to in the future. Past titles in the series include:
- Rita wants a Fairy Godmother
Rita wants a Genie will be available from all good bookshops from 28 April and is now available to preorder on our website.
Enjoy this sneak peek into this brilliant picture book with a reading by author Máire Zepf below:
You can find more exciting book videos including trailers, readings and sneak peeks on our YouTube page.